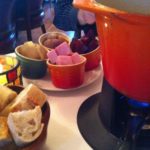 White Truffle Fondue
Bistro Maison created the wonderful idea of serving an Oregon white truffle fondue on Valentine's Day. Every December and January we get lots of white truffles from our local foragers. Since we are closed for vacation the month of January, Chef Jean-Jacques immediately cleans them upon receiving them and makes a compound butter of white truffles. He then refrigerates this compound butter which allows the intense unique flavor if this exotic mushroom to remain dormant until he is ready to use them again. When he allows the white truffle butter to come up to room temperature, the smell and flavor of the white truffles are as strong as when he first received them. We needed a romantic appetizer for our Valentines Day menu and we could not think of one more appropriate to showcase our Oregon White Truffles.
Ingredients
Utensils
Cheese Fondue set with ceramic pot

4 fondue forks, stand, burner and safety fuel.

At Bistro Maison

we like to use Le Creuset.
Ingredients
1

teaspoon

Ground Nutmeg

1/4

cup

Oregon Dry White Wine

1

cup

Grated Gruyere cheese

1

cup

Grated Emmental cheese

1

cup

Oregon's White Tillamook Cheddar Cheese

1

tablespoon

Oregon's Clear Creek Kirshwasser

2

tablespoons

Oregon's White Truffle Butter

1

tablespoon

White Truffle Oil
Accompaniments: all should be cut in 3/4" cubes
Fresh pear and apples

cubes of ham

Roasted red beets

carrots

cornichons

cherry tomatoes

crusty bread

2-day old preferred. Keep refrigerated until ready to serve
Instructions
Pour in wine and ground nutmeg in Fondue pot over heat.

Keep heat on low until bubbling.

Reduce the heat to low, and gradually stir in grated cheeses.

Continue to heat until cheeses melt, stirring constantly.

When you add the cheese, stir in a zig zag rather than circular motion to help break up the cheese.
Note: Keep the fondue warm over as low heat as possible to avoid scorching the cheese.
Once cheese is melted stir Oregon's Clear Creek Kirshwasser into cheese mixture.

Continue to cook for 2-3 minutes until mixture is thick and smooth, stirring frequently.

Do not allow fondue to boil.

Add white truffle butter and stir until dissolves into cheese mixture.

Remove from heat and drizzle in white truffle oil while stirring mixture.

Transfer directly to a lit fondue set to prevent cheese from separating.

Serve with the accompaniments.